During a bike tour in Flanders (the northern and flat part of Belgium) you can ride either an upright model recreational bike, a road bike or even a recumbent bicycle. The classic north American hybrid, with straight mountain bike type handlebars, derailleur gearing and without fenders and chainguard differs from the European hybrid bicycle. In Belgium such a recreational bike is adapted to the local cycling conditions and is therefore equipped with fenders and a chainguard, hub- and handbrakes, a 3-8 speed gearbox or 21-speed derailleur gearing and ergonomic slightly rising handlebars. The Belgians adore their national cycling heroes and try to imitate them during training sessions on their road bikes. The typical lightweight Belgian road bike (also called racing bike in Europe) has an aluminum or carbon frame.
Bicycle rental
This is called 'fietsverhuur' in Flanders and 'vélo de location' in Wallonia. Bicycles are widely available for rent at bike dealers, repair shops or rental agencies. About 20 railway stations also rent out bicycles too. Some tour companies also provide more exclusive rental bikes.
Basic (single-speed and hub-brake) recreational city bike [stadsfiets].The rental price is around Euro 10 per day.
More luxurious, upright 3-8 speed hybrid bike with hand brakes for which you pay up to Euro 25 per day.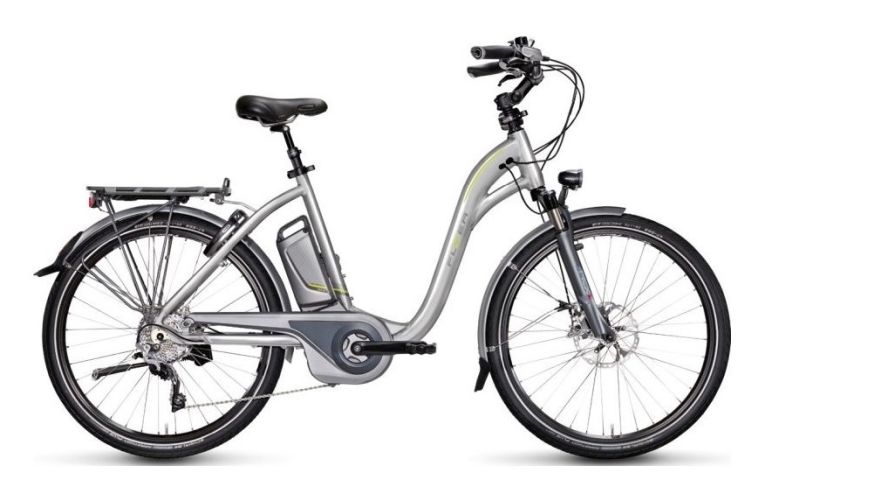 Increasingly popular E-bike. Not available at al rental points. Rental prices vary from Euro 25 to Euro 35 per day.
Road bikes (with drop down handlebars and 21-27 derailleur gearing). Such bikes can be rented for Euro 25-40 per day.
(Sponsered) information
Rental prices vary according to location and the quality and brand of the bicycle. Often cheaper rates for week long rentals are offered. Most dealers require a deposit of between Euro 25 and Euro 100 or a credit card guarantee. Furthermore, sometimes you will be requested to show your passport for identification purposes when renting bicycles.
Using your own bike for a tour in Belgium
You can transport your own bike to Belgium and use it during your cycling tour. Another option is to buy a buy a bike, bicycle parts or cycling accessories in Belgium and take it home after your tour. The many bike shops in Belgium offer a range of bike models and accessories. And moreover, they sell brands that you might not be able to purchase in your home country.
(Sponsered) information
Bicycle transportation
When you travel to Belgium by ferry you can just cycle it aboard for a small charge. To let your bike fly with you as (extra) luggage requires some more preparation. The regulations for taking a bike differs from airline to airline. Some take bicycles as part of the luggage allowance of 20 kilograms and some charge you nothing, while other charge extra. Check your airline for the most recent information regarding regulations for the transportation of bicycles. For air transportation you must pack your bike in a carboard box, a bike travel case or a bike bag. For a single air transfer use a cardboard box. These are available at most bike shops and airports. If you travel frequently, consider purchasing a (hard-shell) bike travel case or a foldable bike bag. They are more durable and include wheels on the bottom for easy transportation through the airport. Bike travel cases are more expensive than bike bags, but they offer more protection. Before you start packing, take a few pictures of the bike. If any damage occurs in transit you might need these pictures to make your claim.
When you use your own bike during an organised bike tour in Belgium please ensure that it is in good condition. The tour company staff will of course help you with a break down, but they do not take care of deferred maintenance.
Luggage transportation
For luggage transportation during a self-contained bike tour there are two options: in panniers on your bike or a daily transfer of your luggage by courier service.
(Sponsered) information
Panniers on your bike
Luggage carried on a bicycle is stored in panniers. These are bags (usually a pair) that are attached to an alloy rack and hang alongside the wheels of the bicycle. The normal English pronunciation is: "PAN-yer". Additional to rear panniers, a low-rider front rack with panniers is advised if you are going to be carrying heavy loads - definitely if you're camping. These racks attach to the front fork so that the panniers are centered over the front axle. Using this front low-rider, the weight on both sides of the front wheel have to be balanced equally. Instead of a front rack with panniers, you can also tow a luggage trailer. With regard to actually packing your panniers, line them with heavy-duty plastic garbage bags to keep the contents dry in case of rain, even when using waterproof panniers. Waterproof nylon covers that go over the panniers are also available and these can be used as an alternative solution when it's wet. Panniers come in many models and variants. There are 'drawstring' or 'folding' pannier closures, although the flap that covers the opening and secures with Fastex buckles seems to be the best system. Packs that use a zip fastener to close the main compartment are more prone to mechanical problems. A handlebar bag is advisable, being the 'control centre' containing all your valuables.
Cycling with a heavy backpack (other than a hydration bag) is not advised. Backpacks raise your centre of gravity, often causing you to overheat, increasing fatigue with your back and worse still, the weight of the backpack will multiply the effect in case of high-impact accidents.
By courier service
During a organised tour with one of the tour companies in Belgium daily luggage transfers are almost always included. For a self-supported tour, you can also arrange daily luggage transfers from accommodation to accommodation by using the services of a Belgian courier service. Investigate and arrange this ahead of your arrival in Belgium.