For navigation during your self-guided bike tour in Germany you can use maps with optional cue sheets or a GPS (Global Position System) device, or both. When you book a tour through one of the bike tour companies they will provide you with daily routes. Cycling self-supported means that you must organise this yourself.
Cycling routes in Germany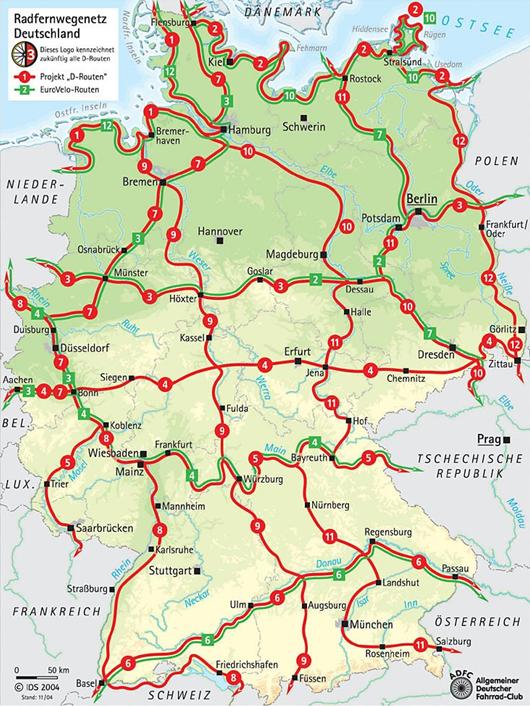 Germany has more than two hundred long-distance cycle routes [Radfernwege] covering over 60,000km/36,000mi as well as countless other well-signposted cycle routes. Many long-distance cycle routes in Germany even dip in and out of neighbouring countries. The routes are designed to keep cyclists away from heavy traffic on highways and arterial roads. Most of the riding is on roads and bike paths where there is light or no automobile traffic at all. Riverside routes are especially popular. A good reason for this is the predominance of flat sections along the river banks that are suitable for cyclists of all abilities. Many regions have invested in cycle tourism and cyclists pay great attention to the standards of the routes on offer.
Some long-distance cycling routes often have their own symbols which are also used for the direction signs. Communities are increasingly establishing their own local bike routes. You can frequently obtain free route information from these communities or at many of the accommodation addresses. The "D-Netz" nationwide cycling network (which has it own signage) consists of short and direct connections for everyday traffic as well as on regional and attractive tourist routes.
German cycling maps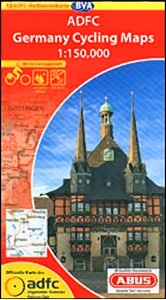 There is an excellent range of cycling maps and route-guidebooks of Germany available. The "ADFC-Radtourkarten" from the German Cyclists' Federation ADFC [Allgemeiner Deutscher Fahrrad-Club] are recommended. These maps have been drawn up by cyclists and feature 27 cycling maps, covering Germany on a scale of 1:150,000. Other mapseries include the "ADFC-Regionalkarten" and the "ADAC-Radtourkarten" from the German Automotive Club. Both on a scale 1:75,000 but these series do not cover all of Germany. Maps of local (signed) bike routes can be often obtained free from the Tourist Offices [Fremdenverkehrsämter]. Guidebooks/maps for most long-distance routes [Radfernwege] are available in the German language and only a few are available English, including the Danube and Mosel routes. The German language guidebooks can still be useful because of the detailed maps and pictures where language is less important. There is even a 290 page book describing all the long-distance routes. Cycling maps and routebooks might be hard to come by in smaller bookstores and even at the tourist-offices in Germany. Ordering and shipping maps is advised.
(Sponsered) information
Detailed maps only cover small areas and if you are doing a longer tour you will find yourself having to buy a lot of them, which is rather expensive and also quite heavy. A good compromise in this case is to buy a road atlas, tear out the necessary pages and only take those. You can also highlight the route (and alternative routes) with a marker pen. For both options you can carry the map sheets in a map-holder or a transparent handlebar bag cover, which is much easier than dealing with a folded map.

Use route or cue sheets (with turning point instructions) only in addition to maps; without a map you can easily get lost or disorientated at some point and a good map provides you with far more references than a route itinerary.
GPS
Currently there are many GPS (Global Position System) navigation products available on the market, including hand-held GPS devices, right through to online routing programs at which you can choose existing cycling routes or create routes yourself and download these to your GPS device, for free or paid.
(Sponsered) information
The 'pros & cons' in using GPS during your cycling tour.
PROS
GPS shows you where you are at all times, with a zoom-in on the screen map;

The route can be pre-programmed, and the GPS device will do the navigation for you;

GPS gives you an accurate calculation of your speed, distance travelled etc.;

You can add your own 'way marks' and points of interest to the programmed route;

You can record your tour data of routes and distances for later presentation and analysis;
CONS
Navigating with a paper map is mentally challenging - using GPS takes all the fun out of it;

Route planning is a lot easier on a paper map than on a GPS because of the small screen;

For a single tour a GPS (plus electronic map) device is more expensive than a set of paper maps;

Maps don't break and run out of batteries.
There are some GPS functions that are not yet fully evaluated to support cycling. Take this into account when you intend to purchase a GPS device.
- Not all electronic maps show cycle paths and lanes;
- Not all GPS devices are waterproof;
- Not all electronic maps are routable for cyclists (following the roads like in a car system).