Getting to Germany
Flying
Germany is served by more than 100 international airlines. Lufthansa is Germany's largest national airline and their "City-Line" division offers regional service to over 60 cities in Europe.
The most important (international) airports are Frankfurt, Düsseldorf/Duisburg, Munich, Berlin and Hamburg:
Also check the information for taking your bike on the plane
By train to Germany
Germany's airports are perfectly linked into the German railway system. The nationwide rail network features tracks that total 38,000km/22,600mi in length.
The EuroCity train service is renowned not only for its speed, but for its high-tech and very comfortable accommodations as well. The EC travels to Switzerland, Austria, Belgium and the Netherlands.

The Thalys is a high-speed train service, derived from the French TGV that connects Cologne and Aachen with Paris, via Brussels.

ÖBB-Nightyet trains trains link the major cities of Germany with the bordering countries. These trains are provided with reclining seats and sleepers with berths.
By ferry to Germany
There are ferry routes from Denmark, Norway and Sweden to the Baltic coast of Germany:
There are a number of efficient ferry services linking the UK to France, Belgium and the Netherlands. Once on the continent driving distances to Germany can be as little as only 2 hours. The journey from Calais to Aachen is only 3 hours by car.
To Germany by bus
Germany has bus connections provided by Eurolines to over 30 countries. Within Germany, Eurolines tickets are also available from Deutsche Bahn (German Rail) ticket agents in all major railway stations. The "Fernbus"' network consists of about 15 international bus routes. Abildkskou-Busser operate regular bus services to Aarhus in Denmark.
To Germany by car
Germany can be reached via a network of motorways and main roads from The Netherlands, Belgium, France, Switzerland, Austria, The Czech Republic and Poland. Cars can be stopped at the border for random checks, but this happens very rarely (except for Poland and the Czech Republic).
An International Driving Permit is not required for up to 180 days with tourist or visitor status, as long as you are in the possession of a driving license from your country of origin. If your license does not incorporate a photograph, ensure you carry your passport to validate the license. If the vehicle is not registered in your name, carry a letter from the registered owner giving you permission to drive. A third-party vehicle-insurance is compulsory. A green card is not required.
The German motorways ['Autobahn'] are known throughout the world for their sophisticated engineering and speed with parts of them having no speed limits at all. Unlike many other countries the German motorways are also completely toll-free. Autobahns have road numbers that include an 'A' followed by up to three digits. Road signs are coloured blue with white letters and numbers. ADAC is Germany's biggest vehicle breakdown service. They offer membership packages which can also be valid for other European countries.
(Sponsered) information
Getting around in Germany
Trains in Germany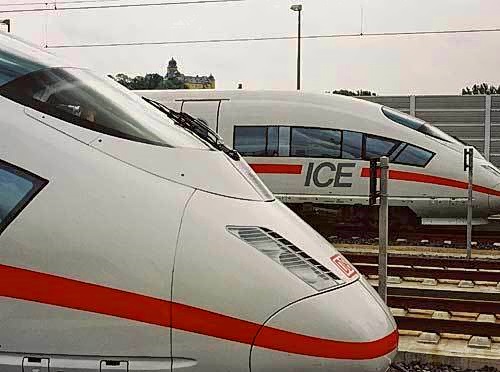 Germany's privatized national railway DB [Deutsche Bahn], features tracks that total 38,000 km in length. Long-distance and local rail timetables are coordinated to ensure good connections. The super-fast InterCity Express (ICE) trains zoom around the country at hourly and two-hourly intervals and link up all the major cities. Transferring from to another is usually just a matter of crossing the station platform and speeding off again within minutes of your arrival. You may be surprised to know that domestic travel times by train are faster than travelling by air, if you include the time for getting to and from the airport. The ICE trains are quiet and fully air-conditioned with reclining seats, tables, dining and bistro cars. The regional trains are designated 'Interregio Express' (IRE), 'RegionalExpress' (RE) and 'RegionalBahn' (RB). With a standard train ticket you can board any train on the German Railway at any time. When you buy your ticket, you can choose between first and second class. There are various ways to purchase your train ticket: Via a ticket vending machine, Railway Ticket counter, Ticket shop or Online. Reservations are recommended for long distance high-speed trains. Deutsche Bahn offers its so-called "BahnCard" that can get you various discounts on some types of train tickets. If you plan to travel by train a number of days, the German Rail Pass may be a good option. Other saving schemes are the Eurail \ Interrail pass.

It is perfectly feasible to take your bikes on the majority of German trains but this but requires purchasing a separate ticket [Fahrradkarte]. Bicycles are not allowed on high-speed ICE trains.
Ferries in Germany
Although there are a lot of independent (motorized) ferries crossing the German rivers, short distances may be crossed by cable or chain ferry. For decades now, many local ferry services are being replaced by bridges although there are still many river ferries in Germany. Today they remain an important form of public transportation, both economically and from a recreational point of view. Some river ferries carry only passengers, but most ferries can also carry vehicles, including bikes.
Buses and trams in Germany
Buses serve villages and small towns, especially those without railway stations, and these are operated either by the "Post", German Railways or by private firms. Central bus stations [busbahnhof] are usually located near the main railway stations [hauptbahnhof] in most of the big towns and cities. In rural areas many lines run only once per day. Regional and local express bus line designators usually contain the letters CE (local), S (regional), SB (regional and local). City bus line designators may contain the letters BB [Bürgerbus]. Eurolines also operaties several national long distance lines. The bus stops are marked with a green "H" [Haltestelle] and feature the names of the stops, bus numbers and destinations, timetables and a map of the transport network of the city. Many regional companies use buses with special bike racks. As well as buses, trams (streetcars) run in many cities, both above and below ground where they are also called "U-Bahn".
Most buses in Germany also take bicycles.
Travelling by car in Germany
The German motorway [Autobahn] is known throughout the world for its sophisticated engineering. Unlike many other countries, the German Autobahns are completely toll-free. The motorway network is indicated by blue road signs, while the regional roads [Landesstrassen] have yellow road signs. Seat belts are compulsory for front and rear seat occupants - children can-not ride in the front seat. The police are allowed to collect fines [Verwarnungsgeld] on the spot for most traffic offences. If you don't have enough cash on hand, your vehicle may be impounded (at additional cost to you, of course.) You need not fear when paying spot fines - the German police are very professional, and corruption is very rare, and you will be given a receipt for the payment. Over 30 German cities have implemented Low Emission Zones into which only vehicles displaying an "Emission Badge" [Umwelt Plakette] are allowed to enter. Emission Badges can be purchased on the internet from the testing institutes Tüv Nord or Tüv Süd before travelling to Germany. ADAC, the German Automobile Association can provide roadside assistance throughout the country. Members of international partner organizations such as AAA receive free assistance.
Taxis in Germany
Using a taxi in Germany is basically the same as in most other places. All German taxis are cream-colored with a black and yellow taxi sign on the roof. In the birthplace of the luxury sedan, it should be no surprise that the bulk of the taxi fleet in Germany is comprised Mercedeses and Audis. For larger parties or payloads, you'll find equally comfortable minivans and station wagons.
There are numerous taxi stands in larger urban areas and taxis can also be hailed on the street as they drive by. Or look around for a 'taxi-phone' [Taxiruf]. These phones will connect you to the central taxi dispatch office. All taxis in Germany are metered and fares are regulated but rates vary by city. If you hail a driving taxi and only want to travel a short distance then you can ask the driver for a low-cost fare [Kurzstrecke], which costs around Euro 5.