(Sponsered) information
Getting to Belgium
Flying
If you are arriving by air, you will most likely land at Brussels Airport Zaventem (BRU) , located 10 km/6 mi. northeast of the city. With over 100 connections it is by far the biggest international airport in the country. From Zaventem there are excellent railway connections; all the Belgian cities and the major towns in France, the UK, Holland and Germany have a very requent train service. The regular bus service and The Airport Line shuttle provide a daily service from Zaventem to Brussels, departing every 30 minutes from 06:00 to 24:00 hrs. The Airport Express bus connects the airport to Antwerp with an hourly service operating between 04:00 and 24:00 hrs. Licensed, metered taxis are always available in front of the arrivals hall. The fare from the airport to the city centre of Brussels is normally around Euro 40. The licensed taxis can be recognized by their blue and yellow emblem. Travellers are advised to avoid unlicensed taxis.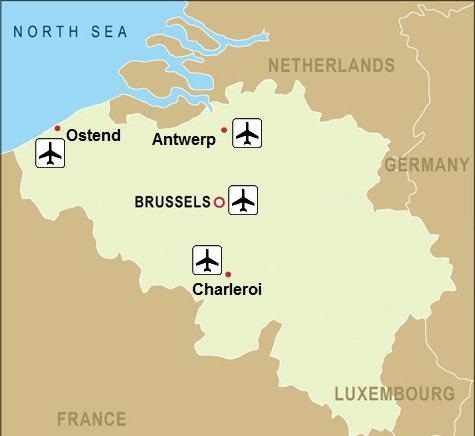 Other smaller airports are mainly used by short-haul airliners:
Antwerp airport (ANR)Located 2 km/1 mi east of the city. Coaches run every 15 minutes to Antwerp-central railway station and every 10 minutes to Antwerp-Berchem station. The 'Airport-Expres' runs every hour from the Antwerp central railway station to Brussels Airport Zaventem. Taxis are also available.

Charleroi Brussels-South airport (CRL)
Located 6 km/4 mi from Charleroi. Coaches run every 30 minutes to Charleroi and every hour to Brussels. Taxis are also available.

Ostend-Bruges airport (OST)
Located 5 km/3 mi from the city. Coaches run every 10 minutes and taxis are also available.
Also check the information for taking your bike on the plane
By train to Belgium
The main rail hub is at the Gare du Midi station in Brussels. The second largest is the Antwerp-central.
High-speed train (or TGV = Trains à Grande Vitesse) connections:
By ferry to Belgium
There are three passenger ferry connections, sailing from the United Kingdom to Belgium:
The Dover—Calais ferry, sailing from the UK is also linked to Belgium via France. By car the distance from the Calais ferry port to Brussels is 180 km/110 mi. By train the travel time is approximately 3 hours.
To Belgium by bus
Eurolines is the main operator for (long distance) international bus travel in Belgium. There are bus services from the larger towns in Belgium to many European countries. Some of these services do not run on a daily basis.
To Belgium by car
Belgium can be reached from France, Luxembourg, Germany and Holland via a superb network of motorways and roads. Cars can be stopped at the border for random checks, but this happens very rarely. An International Driving Permit is not required for up to 180 days with tourist or visitor status, as long as you are in the possession of a driving license from your country of origin.
Your vehicles must carry a warning triangle and a reflective vest (to be worn when changing wheels etc at the roadside).
Getting around in Belgium
Trains in Belgium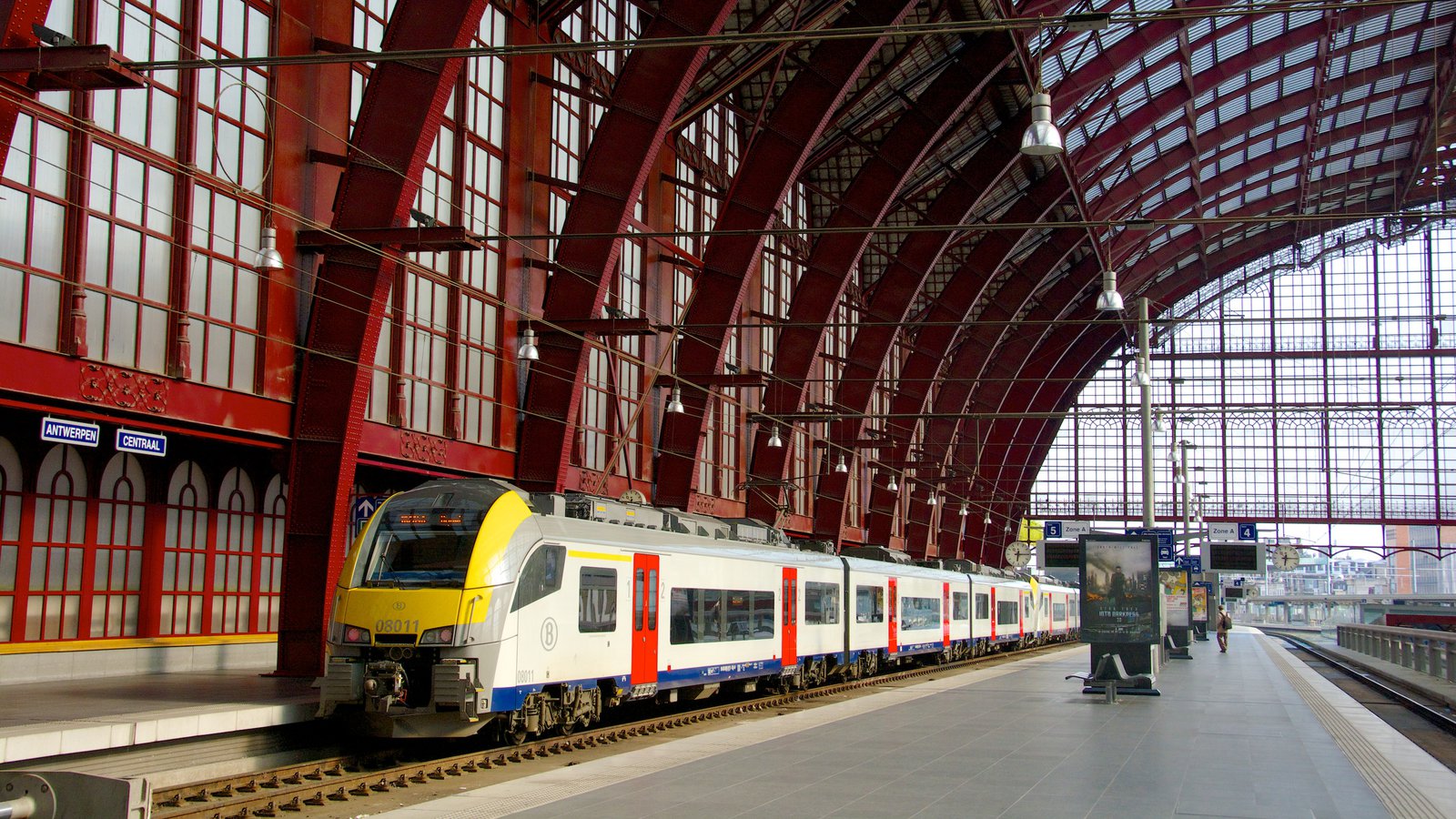 The Belgian National Railways is called the NMBS in the (flat) Flemish part of Belgium. It operates the most dense railway network in the world with many international lines passing through Brussels — being the centre of the network. There is a frequent and efficient train service from Brussels to all parts of the country and the fares are comparatively low. There are two main types of trains: Intercity trains, and local trains which stop at every station, and often called 'Stoptreinen'. Both Intercity and local trains run at least half-hourly services on the principle routes. Trains run even more frequently between Brussels and Antwerp.
Tickets (first or second-class) can be purchased at all stations, either at the ticket office or at an automatic dispenser. Eurail / Interrail passes are valid throughout the network, as is the Belgian "Rail pass", which gives entitlement to 10 journeys' unlimited rail travel within one year. Or there is the under-26 "Go Pass", valid for ten second-class, single journeys within six months. Also consider also the "Eurail / Interrail Benelux Pass", which gives five day's train travel within one year. Furthermore there are ticket discounts for seniors and groups.
In Belgium the combination of bicycles and railways functions very harmoniously. You can buy a one way bicycle ticket for Euro 5. Each type of train has its own number of spaces for carrying bicycles. Bicycles must be loaded and unloaded at the points indicated by the train staff and under their supervision. It is advisable to travel with your bicycle during the off-peak periods.
Ferries in Belgium
Rivers and canals are very much part of the Belgian scenery. For centuries ferries have been part of the landscape linking communities across the main rivers, such as the Schelde and Maas. Today they are still an interesting form of public transportation, both economically and from a recreational point of view. When cycling it is very convenient to use one of the many Belgian river ferries, having very short, direct links across rivers and canals. Most of them are part of the networks of cycle routes. Besides, the Flemish government is actively improving the towpaths along the waterways for cycling. Sometimes the ferries are suitable for all types of traffic and sometimes only for cyclists. Most ferries operate from dawn till dusk, but be aware that schedules can vary.
Buses and trams in Belgium
In Belgium buses are mainly used within towns or smaller regions. The government operated bus company 'De Lijn' [the line] covers 90% of the Flemish urban areas. While Brussels and Antwerp have their metro networks, other cities use buses and sometimes trams. An interesting means of transportation in cities and suburban areas is the 'Kusttram' [coastal tram], a tram running along the Belgian coast between the French and the Dutch borders. It constitutes a popular attraction during the summer. Buses do not carry bicycles in Belgium.
Travelling by car in Belgium
Belgium has a good network of main roads and (toll-free) motorways and congestion is normally tolerable outside the major cities. The leading national motoring organization is the "Touring Club de Belgique" (TCB), which can be called upon in the event of breakdowns - this only applies if your insurance company grants you affiliated membership.
If you prefer to visit only the cities, then a car is not the best option to use. Due to limited road capacity and parking restrictions, cars are actively discouraged from entering most of the historic town centres.
If you are involved in a collision with a cyclist, you will automatically be assumed to be guilty (until proven innocent). Penalties for drunken driving are very stiff. On-the-spot fines are common for some offences.
Taxis in Belgium
Taxis are available in all towns at taxi stands or at hotel entrances. If there are no taxi stands, taxi companies can be telephoned for an extra charge. The taxi fare is displayed on the meter, including the service charge.