Getting to the Netherlands
Flying
If you are arriving by air, you will most likely land at Amsterdam Schiphol Airport (AMS). With over 250 connections it is by far the biggest international airport in the country. Schiphol is a European hub, and after London, Paris, and Frankfurt the largest airport in Europe. From Schiphol there are excellent railway connections; Amsterdam, Rotterdam, The Hague, Utrecht and most large cities have a direct, and very frequent (every 10 minutes) train service. The hotel shuttle provides a daily service to Amsterdam, departing every 15 to 30 minutes, stopping at a selection of major hotels and then returning to Schiphol. Taxis are plentiful but more expensive; registered taxis have blue number plates, others should be avoided.
There are four other international airports. These smaller airports are mainly used by budget, short-haul airliners:
Also check the information for taking your bike on the plane
By train to the Netherlands
There are direct regular international high speed trains from Amsterdam to the UK, France, Belgium and Germany:

Ferries to the Netherlands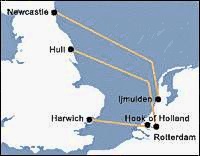 The most important boat connections in the Netherlands are with Great Britain. There are three ferry services:
DFDS Seaways between Newcastle upon Tyne and IJmuiden;

Stena Line between Harwich and Hoek van Holland (Hook of Holland);

P&O Ferries between Kingston-upon-Hull and Rotterdam Europoort.
P&O European Ferries also run services to the Netherlands via the Belgian ports, which are close (1 hour drive) from the Netherlands.
The 'Dutch Flyer' is a DFDS combination ticket that includes the train journey from anywhere on the UK National Express East Anglia network to Harwich, plus the ferry, and the train journey from the Hook of Holland to any NS (Dutch Railways) station in Holland.P&O European Ferries run services to the Netherlands via the Belgian ports, which are close (1 hour drive) from the Netherlands.
To the Netherlands by bus
Eurolines is the main operator for (long distance) international bus travel in the Netherlands. There are bus services from the larger towns in Holland to many European countries. Some of these services do not run on a daily basis.
To the Netherlands by car
The Netherlands can be reached from Belgium and Germany via a superb network of motorways and roads. Cars can be stopped at the border for random checks, but this happens very rarely. An International Driving Permit is not required for up to 180 days with tourist or visitor status, as long as you are in the possession of a driving license from your country of origin. All national motorways are signposted with green/red "A" symbols; smaller roads are indicated by yellow "N" symbols. Driving is on the right hand side of the road. The wearing of seat belts and child seats are compulsory. The maximum speed limit on motorways is 100-130 kph/60-80 mph, and 80-100 kph/45-60 mph on the secondary main N-roads. The speed limit in towns and cities is 50 kph/30 mph, with 30 kph/18 mph being the local limit in residential areas.
(Sponsered) information
Getting around in Netherlands
Trains in the Netherlands
The highly developed Dutch rail network is efficient and connects most towns. The 'Nederlandse Spoorwegen' (NS) rail service operator provides services on almost all routes. Some local lines in the north, east and south are operated by Syntus, Arriva and Connexxion. Tickets are available at all stations, both NS and non-NS, and there is one national tariff system. There are two main types of trains: Fast "Intercity" trains, and local trains which stop at every station, and called "Sprinter". With the exception of a few rural lines, the minimum weekday frequency is one train every 30 minutes. In the western part of the Netherlands, the rail system resembles a large urban network with up to 12 trains per hour on main routes.
Tickets can be purchased from machines (English language) in stations using coins or debit / credit cards. Only larger stations have a ticket window. You have to buy your ticket before travelling - you can no longer simply buy a ticket from the conductor, as in some other countries. Note that you can buy a ticket in advance without a date, which should be validated when entering the platform. This doesn't make the ticket cheaper, it's just for convenience. A common mistake made by foreigners is accidentally selecting a 40%-discount ['korting] ticket from the machine for which a special discount pass is required. Visitors planning to travel by train more frequently or who intend to travel longer distances should consider one of the discount offers, such as the Eurail/Interrail pass or the "OV-Dagkaart" (single day unlimited ticket). Children under 4 years of age travel free on all journeys within the Netherlands. Child Railrunner tickets, which cost Euro 2.50, are available for children aged between 4 and 11 years when travelling with a fare-paying adult, and include up to three children travelling with any one adult.
In the Netherlands the combination of bicycles and railways functions very harmoniously. You put your bike on the train by yourself (not during rush hours). The baggage compartment is easily recognizable by a blue sticker with a bicycle symbol above one of the doors. You can buy a bicycle day pass for Euro 6.
Ferries in the Netherlands
For centuries ferries have been part of the landscape linking communities across rivers and also the islands to the main-land. Today they are still an important form of public transportation, both economically and from a recreational point of view. There are larger ferries, operating between the northern province of Friesland and the Wadden Islands, and there is a long-distance ferry between the provinces of North Holland and Friesland, crossing the IJsselmeer Lake. When cycling you cannot avoid the numerous ferries with sometimes very short, direct connections across rivers, canals and lakes. Many of them are a link in networks of cycle routes. Sometimes they are suitable for all types of traffic and sometimes only for cyclists. Most ferries operate from dawn till dusk, but be aware that schedules can vary.
Buses and trams in the Netherlands
In the Netherlands buses are mainly used within towns or smaller regions, and not between them all. Connexxion has a near monopoly in the Dutch bus market. In addition to the national bus system, some larger towns (e.g. Amsterdam, Rotterdam, etc.) have their own tram, bus and metro networks. Buses do not carry bicycles in Holland.
Travelling by car in Netherlands
A car is a good way to explore the countryside area which are not connected by rail, e.g. the Veluwe and some parts of Zeeland. The Dutch motorway network is dense and roads are well-signposted. However, in this densely populated country, be prepared for heavy traffic and congestion in all but the very northern parts of the country.
If you are involved in a collision with a cyclist, you will automatically be assumed to be guilty (until proven innocent). If you prefer to only visit the cities, then a car is not the best option. Due to limited road capacity and parking restrictions, cars are actively discouraged from entering most of the bigger city centres. The yellow ANWB (Royal Dutch Touring Club) patrol card provide 7x24 hour emergency breakdown assistance.
Taxis in the Netherlands
Taxi services were traditionally tightly controlled monopolies in the Netherlands. In recent years, the market has been deregulated. Taxi are an alternative to buses or trains but are of course more expensive. All registered taxis have blue license plates - tourists are advised to avoid unlicenced taxis. There is a maximum tariff, and it's built into the taxi meters. If you negotiate a price before you step in, the price you have to pay will be the negotiated price, or the metered price, whichever one is the lower.