The Netherlands, or Holland is totally flat except for a small region in the southernmost part of the province of Limburg. The cycling infrastructure is excellent. Nearly every road has a bicycle lane alongside it which links up the villages and towns. The numerous bicycle paths [fietspad] are mostly separate, away from the road itself. There are about 16 million bicycles in Holland, which is slightly more than one for every inhabitant, and there are about 1.3 million new bicycles sold every year. The Dutch are so geared up to the bicycle, that in some places the cycle path junctions even having their own roundabouts. Therefore cycling is very safe, also because of the high level of consideration most motorists give to cyclists as they themselves are also cyclists. No wonder you will find many bike tour companies offering multiday guided or self-guided tours. In most historic towns reliable companies offer guided day tours, e.g. in Haarlem. And there are numerous cycle routes all over the country, to serve the self-contained cyclist.
You'll find cycle shops and repair facilities in virtually every village. Doing a cycle tour with children on flat terrain is surprisingly easy and enjoyable. It is safe (no speedy downhill parts), predictable and also matches their levels of stamina. In no other country do so many children cycle as in Holland; either as an organised family day out or for getting to and from school. Children can be introduced to the idea of cycling at an early age by using bike seats and trailers that simply attach to adult bikes.
Climate
Holland enjoys a temperate, maritime climate influenced by the North Sea and Atlantic Ocean. Since the country is small there is little variation in climate from region to region. Rainfall is distributed throughout the year. January and February are considered the coolest months of the year, whereas July and August are the warmest. Sometimes easterly winds can cause a more continental type of weather, warm and dry in the summer, but cold and clear in the winter. Holland is a flat country and often experiences breezy conditions, although more in the winter than in the summer, and more often along the coastal areas than inland. April till October is the best period for cycling.
Trafic rules for cyclsits
According to the Dutch traffic law, bicycles are a separate category sometimes having their own special regulations. These may differ from those for motorized traffic and certainly from regulations in other countries.
When making a crossing (with equal priority), the traffic coming from the right always has the right of way. The 'right of way' rules do not distinguish between 'slow traffic' (bicycles, mopeds, etc.) and 'fast traffic' (motorcycles and cars etc.).

Traffic turning off a main road must always give way to the traffic continuing along that road. This also means that cars turning right have to give priority to bikes (on their 'inside') going straight on.

As a rule, mopeds ('brommers' in Dutch) have to use the main road rather than the bicycle paths. They are allowed on the paths only if explicitly indicated.

Cycling side by side (max. 2 persons) is permitted provided that other road-going traffic is not inconvenienced.

Changing direction is indicated by putting your arm out in the desired direction.The right of way situation on roundabouts is quite often unclear. At some roundabouts the priority is according to the general rule (i.e. the traffic coming from the right has priority), while on others, the traffic approaching the roundabout has to yield to the traffic already on it. Road markings (white triangles) are more commonly used on the 'yield' roundabouts than the right-of-way traffic signs.
Traffic signs for cyclists

Bicycle lane or bicycle path

Bicycles not allowed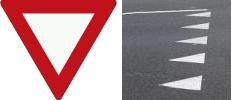 Give way / Yield (sign and/or road markings)
Some important road sign texts:
'fietsers uitgezonderd' - this (sign, rule or restriction) does not apply to cyclists
'fietsers afstappen' - cyclists must dismount
'doorgaand verkeer' - main through-road, non-local traffic
'slecht wegdek' - poor road surface
'zachte/gevaarlijke berm' - soft and dangerous shoulder/verge
Road signs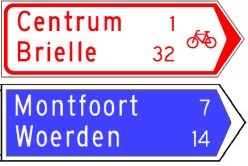 Most roads and almost all cycle paths in Holland are well signposted. These are either blue signs for both motorized and non-motorized traffic and white signs with red letters (and sometimes a bicycle logo) for cyclists. Typical bicycle signs include the so-called "paddestoelen". They are shaped like a toadstool or mushroom, less than 2 feet high and the plastic cap bears the names of destinations and landmarks as well as the distances in kilometres. Where available the bicycle signs indicate the shortest route from A to B over the cycle paths. All the official road signs have a unique five-digit number. These numbers are marked on some of the cycling maps and are a very useful aid for checking your position. A cycle computer/odometer, calibrated in kilometres, is also very useful for longer tours when you need to work out the distance travelled on maps and at road signs.
Safety
Helmets
There is no legal obligation to wear a helmet for everyday cycling, it is only mandatory for organised race competitions. In everyday –flat terrain- cycling helmets are rarely worn as most people have a style and speed of cycling where this is considered to be unnecessary.
Lighting
A (white lens) headlamp and (red lens) taillight are compulsory after dark.
Breakdown
Use your own tool set and puncture repair kit for small problems or go to one of the many local bicycle repair shops. You can also contact one of the mobile breakdown emergency services. These are networks of fully equipped mobile workshops, with a nationwide coverage.
Bicycle theft
Like everywhere else in the world Holland also experiences bicycle theft. Most rental bikes are fitted with a mounted lock. For extra security the Dutch use an extra cable or chain lock. As well as this, most towns have secure parking facilities for bicycles at railway stations and shopping centres. Remember the Dutch motto: "If you're not riding your bike, lock it up".
Liability
Dutch legislation states that primarily the motorist is liable for damages incurred in accidents involving cyclists. The courts give separate judgments concerning liability and guilt in such situations. Thus, the cyclists are always responsible for their own traffic behaviour. They can be fined for traffic violations and if their traffic behaviour has incurred further consequences, then the judge is at liberty to pass sentence on them.